Qui vult decipi, decipiatur. *
I want to thank BG for this little bit of space in his domain. He is a nice bear once you get to know him, grr.
Hey, I graduated from Law school! Monterey School of Law class of '99. I took the California Bar in July, and passed. So I'm looking for job as an attorney. Heres my resume.
I'm married with no kids per se; however, I do have many surrogate furry kids (some scales and feathers too). I blame my fascination with animals on my undergraduate training in Biology. Well, there is always room for more pets, so please visit Dot's World for information on ferret legalization in California.
As I update this page, there will be the usual. I'll have links to friends, favorite sites, and legal references. A couple of pretentious photos. And some comforting words to live by, The Deteriorata. I may even throw in a couple of dull papers I wrote.
Pictures
'Tweener Curmudgeon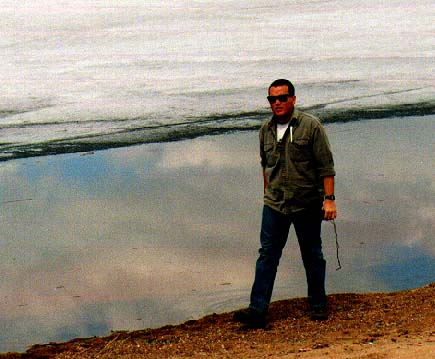 at 1/10,000 lakes in Minnesota.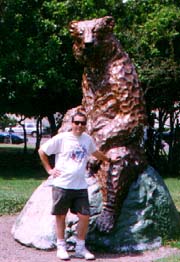 Clan of the Cave Bear
This is Johnny Cochran speaking at a graduation at the Law school I go to,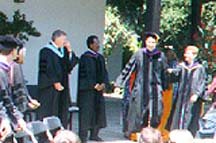 that's my friend Joe graduating and not looking too pleased with Cochran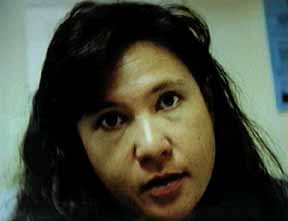 The best, Barb. She has some X-Files sound files.
Links & Downloads
If you have real legal question, here is the "'lectric Law Library", slightly more serious than the above sight.
Here are some fairly accurate California Statutes on Community property 1, 2, 3; and a Community Property outline.
"When the legend becomes fact, print the legend" - Urban Legends
Ranma 1/2
The larger sound files are in QuickTime format and compression to save drive space/bandwidth unless otherwise indicated
poor quality animation, but just as sophisticated BULLWINKLE & ROCKY
More of Moose & Squirrel
Rocky & Bullwinkle midi theme
Sam & Max Freelance Police
South Park sounds: Theme, Halloween wave 608k Oh, my God, they killed Kenny Hitler is not cool
Not a toon, but more animated RED DWARF, "its cold outside, no kind of atmosphere..."
Red Dwarf midi, Red Dwarf theme QuickTime 2megabytes, A real treat for you Arnold "Ace" Rimmer fans, "The Rimmer Experience" QuickTime2megabytes or a slightly larger more complete version2.2mbytes David Lister's response (wave file)
Love theme from MST3K mst3kluv.wav
"Don't cry for me Cupertino" - good bye Gil, MAC OS help.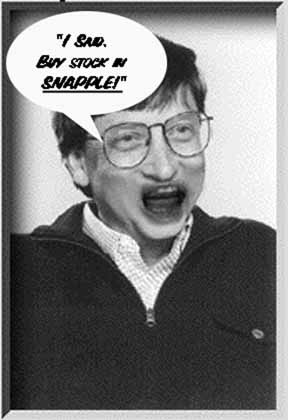 *Qui vult decipi, decipiatur: "Let him who wishes to be deceived, be deceived." Or in other words, "Whatever".
back to top

return to FERRETOUT.NET
write me