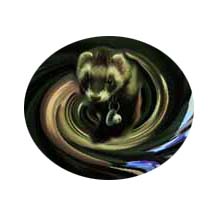 Dedicated to Dorothy A. Ferret
1995-2002
Dot is the inspiration for this page and was an original. She was followed by Muki.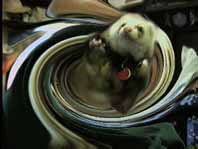 And now this page has been handed off to Mushi and Yosho.

Mushi and Yosho live with one monkey boy and one monkey girl, and a bunch of "pets", cats, birds, frogs, fish, and wretched rodents. There is also lots of so called "wildlife", raccoons, bluejays, deer, coyotes, and bobcats.
This is Princess, a standard tabby. Muki and I like to chase her, Muki can drag her by the scruff of the neck, she probably does not like that. Princess disappeared one night, we miss her :(
This is Yakko, a Sun Conure. I bit him when I was little, I know he did not like that, he squawked like a baby.Yakko screech!
Amazing Discovery! I don't want to be accused of trivializing human politics and human rights, but us ferret freedom fighters made this recent discovery while passing through South Dakota.

Mount Rushmore Memorial, four white guys on the side of a sacred Native American mountain...

but, who is that peeking out above the Great Emancipator's head? close up
Our links are for Ferrets and the people who love us, not if your looking for monkeys with their fur off!...
*webmaster's note: that cover picture of Dot is a fake she made on PhotoShop, but the magazine is real, Visit the sight and buy all your ferret supplies via the Sheffermans!.-BG.
We are outlaws when visiting California. Help Legalize ferrets in California, visit the CDFA web site.
Write Dot, remove the wretched rodent from my address
return to